Club Car Personal
Other Club Car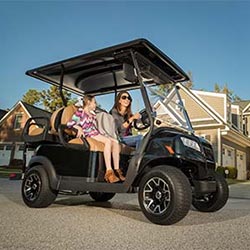 Onward
Style. Comfort. Performance. All its missing is your custom touch to make it the perfect vehicle.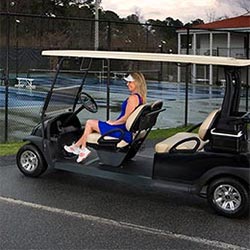 Precedent
Unsurpassed power and durability with four forward-facing seats that fosters comfort, sociability and conversation.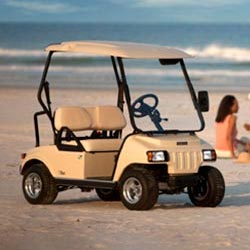 LSV
Low-Speed Vehicles are perfect for driving to your neighborhood golf course, picking up take out at your favorite restaurant or zipping to the gym for a workout.
Tired of always renting your golf cart at the golf course? Maybe you look out the window of your living community and see everyone else driving golf carts and you can't help but be jealous? Well there's no reason to go to the car dealer to change that. Make life easier and faster with your very own Club Car golf cart. Whether you are on the course or just driving to the country club clubhouse, golf carts can change your life. These are the same types of Club Cars you read about in magazines like Golf Digest. Cart Mart is one of the best golf cart dealers in Southern California and takes pride in the amazing types of vehicles we have such as the Onward, Precedent, and Low Speed Vehicle (LSV). Maybe you're looking for a cart that can fit you and your sweetheart for a nice ride around the block? Try out the Onward! Maybe you're looking for something that can fit the family or your group of friends when you need to tour the grounds? Try the Club Car Precedent! Each one is a fantastic addition to your daily life and are some of the best golf carts available.
You can customize your golf carts. Feel the accomplishment of creating your own custom golf cart with all the Club Car golf cart parts you can imagine. You don't know what you're missing in life until you have the luxury of a golf cart for entertainment, transportation, work, and of course, golf!