GEM Commercial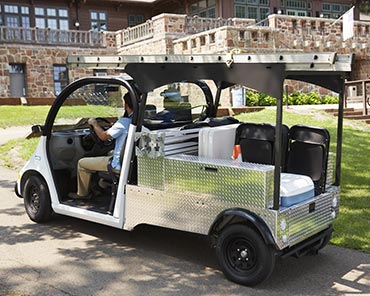 eL XD
With its sturdy build, generous ground clearance and 1,400-lb payload capacity, the Polaris GEM eL XD is a workhorse. Pick the carrier and bed options that fit the unique demands of your job.
Download

eL XD

Brochure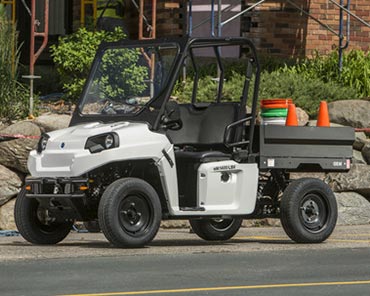 eM 1400 LSV
The Polaris GEM eM1400 LSV is a rugged, hard-working, street legal vehicle, delivering a payload and towing capacity of 1,250 lbs without sacrificing comfort or quality. Count on the eM1400 LSV for the big jobs.
Download

eM 1400 LSV

Brochure
Vehicle Specifications
eL XD
eM 1400 LSV
Gross Vehicle Weight
3,000 lbs (1,361 kg)
2,953 lbs (1,342 kg)
Payload Capacity
1,415 lbs (642 kg)
1,250 lbs (567 kg)
Overall Vehicle Size
(L x W x H)
146 x 55.5 x 73 in
(370 x 141 x 186 cm)
115 x 57 x 73 in
(292 x 144 x 185 cm)
Wheelbase
114 in (290 cm)
79 in (201 cm)
Turning Radius
233 in (592 cm)
167 in (424 cm)
Flat Bed Dimensions
(L x W)
70 x 48 in (178 x 122 cm)
42 x 51 in (107 x 130 cm)
Batteries
Eight 6V flooded electrolyte
Eight 6V flooded electrolyte
Wheels
13 in Street Rated, 155/80 R13
175/70 R14; Kenda
Top Speed
25 mph (40 kph)
25 mph (40 kph)
Motor Size
6.5 kW/8.7 HP
7.0 HP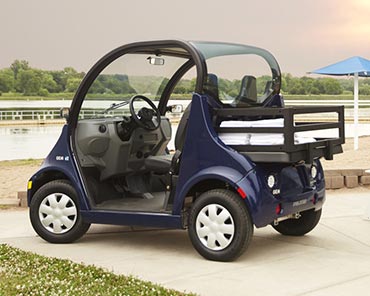 e2
The e2 offers the smallest footprint and most nimble performance, including a tight turn radius for limited spaces.
5 Battery/Range Options
All LED Lighting
Open and Closed Door Options
Download

GEM e2

Brochure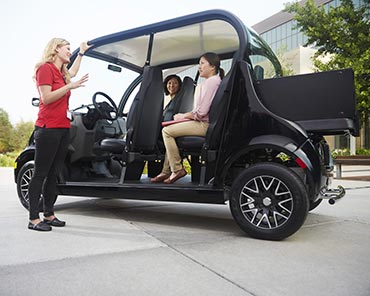 e4
Stand out from the typical golf cart with four forward-facing high back seats, 3 pt safety belts and plenty of legroom.
6 inches of Suspension Travel
5 Battery/Range Options
Premium and Cold Weather Packages
Download

e4

Brochure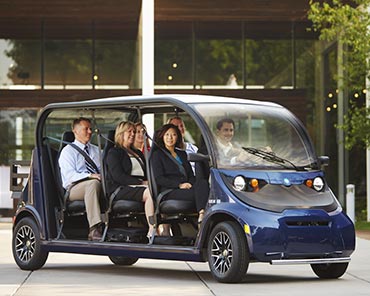 e6
The ideal people mover. It has enhanced suspension that travels over rough terrain without compromising comfort.
4 Battery/Range Options
Fast Charging Available
Optional Hard of Soft Doors
Download

e6

Brochure
Vehicle Specifications
e2
e4
e6
Gross Vehicle Weight
2,000 lbs (907 kg)
2,500 lbs (1,134 kg)
3,000 lbs (1,361 kg)
Payload Capacity
800 lbs (363 kg)
1,150 lbs (522 kg)
1,304 lbs (591 kg)
Overall Vehicle Size
(L x W x H)
103 x 55.5 x 73 in
(262 x 141 x 186 cm)
135 x 55.5 x 73 in
(343 x 141 x 186 cm)
167 x 55.5 x 73 in
(424 x 141 x 186 cm)
Wheelbase
69 in (175 cm)
101 in (257 cm)
134 in (339 cm)
Turning Radius
150 in (381 cm)
207 in (526 cm)
264 in (671 cm)
Flat Bed Dimensions (L x W)
32.5 x 42.5 in (83 x 108 cm)
with optional S-Bed
32.5 x 42.5 in (83 x 108 cm)
with optional S-Bed
32.5 x 42.5 in (83 x 108 cm)
with optional S-Bed
Batteries
Four 12V flooded electrolyte
Four 12V flooded electrolyte
Eight 6V flooded electrolyte
Wheels
13 in Street Rated, 155/80 R13
13 in Street Rated, 155/80 R13
13 in Street Rated, 155/80 R13
Top Speed
25 mph (40 kph)
25 mph (40 kph)
25 mph (40 kph)
Motor Size
5.0 kW/ 6.7 HP
5.0 kW/ 6.7 HP
6.5 kW/8.7 HP