Crown Battery

The Power Behind Performance
Heavy Duty Golf & EV Batteries
Taking more people to their game... and work...than any other battery.
Learn more

about Crown Batteries
Pure Power.
Pure Performance.
Whether users count on their equipment for work, to play golf or to drive around their community, they expect performance on demand from their electric vehicle. We do too. Crown Deep Cycle Batteries are designed, built and proven to perform longer and charge easier than competitive products. And they're engineered to withstand a lot more than running around the links all day — whatever the handicap behind the wheel. That's why Crown Batteries are the choice of golf car and EV equipment specialists and owners alike.
Rigid Connectors
Heavy-duty TTP, COS and Post connectors deliver maximum electrical effciency and durability
Anchor-Molded Terminal
Crown golf batteries' molded in-cover terminal affords superior durability, problem-free installation and best-available corrosion protection to deliver maximum productivity and safe handling
Advanced Engineering
Intelligent, yet robust construction features industry-frsts such as our all-new C-Force™ Active Mass and SolidCast™ plates which combine to accept charge more effectively, maintain it longer, and deliver on-demand power for your gear like nobody's business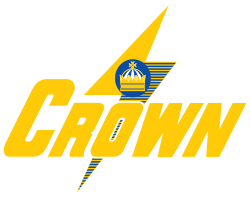 Premium Rubber Separator Protection
Crown's proprietary Rubber separators with micro-ribbed, fberglass-based design enables superior charge acceptance, running time and durability with low-maintenance service
SolidCast™ Plates
Our massive new SolidCast Plates boast an advanced grid architecture and ultra-thick wires, with positive plates now holding more C-Force Active Mass than ever − leading to highly effcient charging, longer discharge times and battery life, and extreme overall performance