Yamaha Commercial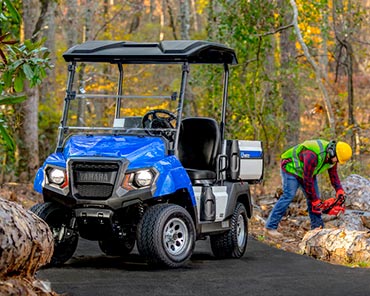 Umax One
With luxurious bucket seats, under hood storage compartment, and large 20" tires, you can see the difference when power, performance, versatility, and comfort matter.
Download

5395_UMAX Brochure_11_MQ

Brochure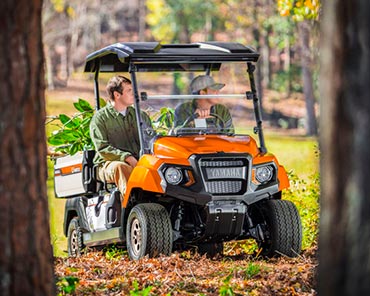 Umax Two
Just as strong, resourceful, and reliable as the UMAX One, but additionally equipped with an even more substantial cargo bed. Measuring in at 41″ long, 46″ wide, and 12″ deep, your maintenance team will have even more volume to work with.
Vehicle Specifications
Power
Gasoline
Umax One
Umax Two
Fuel System
Electronic fuel injection
Electronic fuel injection
Engine Type
Yamaha-built 402cc, Low Emission
Single Cylinder 60° Incline OHV
Yamaha-built 402cc, Low Emission
Single Cylinder 60° Incline OHV
Lubrication System
Splash-style positive oil lubrication
Splash-style positive oil lubrication
Oil Capacity
1.16 U.S. quart (1.1 liter, 1100cc),
Yamalube 10W-30 liter
1.16 U.S. quart (1.1 liter, 1100cc),
Yamalube 10W-30 liter
Cooling System
Forced air
Forced air
Starting System
Starter generator with pedal start system
Starter generator with pedal start system
Electric
Umax Two
Motor
48-volt AC
Output Rating
6.7 hp (5.0 kW FOR 60 minutes)
Motor Control Unit
NEOS 350 amp AC controller
by Toyota Industries Corporation
Batteries
Standard: Eight 6-volt Trojan
T-105 Batteries
Dimensions
| | Umax One | Umax Two |
| --- | --- | --- |
| Overall Length | 111.45 in (283.1 cm) | 119.37 in (303.2 cm) |
| Overall WIdth | 49.33 in (125.3 cm) | 49.33 in (125.3 cm) |
| Overall Height (with suntop) | 71.81 in (182.4 cm) | 71.81 in (182.4 cm) |
| Wheelbase | 66.18 in (168.1 cm) | 77.2 in (196.1 cm) |
| Front Wheel Tread | 39.96 in (101.5 cm) | 40.27 in (102.3 cm) |
| Rear Wheel Tread | 40.19 in (102.1 cm) | 40.19 in (102.1 cm) |
| Minimum Ground Clearance | 4.56 in (11.6 cm) | 4.52 in (11.5 cm) |
Chasis
Umax One
Umax Two
Frame
HybriCore™ chassis features a robotic
welded automotive ladder-style steel
frame protected with a multi-step
full-immersion phosphate treatment,
electro-deposition epoxy-based coating,
and an electrostatic applied
polyester/urethane powder topcoat
HybriCore™ chassis features a robotic
welded automotive ladder-style steel
frame protected with a multi-step
full-immersion phosphate treatment,
electro-deposition epoxy-based coating,
and an electrostatic applied
polyester/urethane powder topcoat
Body
Custom-formulated thermoplastic olefin
painted with a two-part top coat of
high-luster automotive-grade polyurethane
Custom-formulated thermoplastic olefin
painted with a two-part top coat of
high-luster automotive-grade polyurethane
Steering
Self-compensating double reduction
helical rack-and-pinion
Self-compensating double reduction
helical rack-and-pinion
Front Wheel Suspension
Tru-Trak II™ fully independent
automotive-style strut suspension
Tru-Trak II™ fully independent
automotive-style strut suspension
Rear Wheel Suspension
Unit swing arm with DUAL RATE coil
springs over hydraulic shock absorbers
Unit swing arm with DUAL RATE coil
springs over hydraulic shock absorbers
Brakes
Self-adjusting mechanical,
rear wheel drum brakes
Self-adjusting mechanical,
rear wheel drum brakes
Performance
| | Umax One | Umax Two |
| --- | --- | --- |
| Maximum Forward Speed | 19.5 mph (31.4 km/h) | 19.5 mph (31.4 km/h) |
| Maximum Reverse Speed | 17.5 mph (28 km/h) | 17.5 mph (28 km/h) |
| Maximum Turning Radius | 3.48 m | 3.98 m |
General
Umax One
Umax Two
Dry Weight
421.8 kg
455.4 kg
Cargo Bed Capacity
300 lbs
800 lbs
Towing Capacity
800 lbs
1,200 lbs
Cargo Bed Size
33.2" L x 45.9" W x 11.9" H
41.1" L x 45.9" W x 11.9" H
Fuel Tank Capacity (Gas)
5.2 US GAL (20 LITERS)
5.2 US GAL (20 LITERS)
Tire Size
20x10x10 4ply Monitor K389 (front)
K500 (rear)
20x10x10 4ply Monitor K389 (front)
K500 (rear)