Meet the 2024 GEM
New GEM lineup redefines the LSV category with more than 30 automotive-like electric vehicle refinements
GEM Electric Vehicles
For 25 years, GEM electric vehicles have been leading the low-speed EV revolution. Safe, sustainable, stylish, and cost-efficient, GEMs are made to fit your lifestyle and move your organization into the future. Whether that means driving your kids to school safely and in style, delivering a microtransit solution for urban cities looking to cut costs & emissions, or building a quiet maintenance vehicle fleet to keep your properties looking pristine, GEM will get you there and provide an unforgettable ride along the way.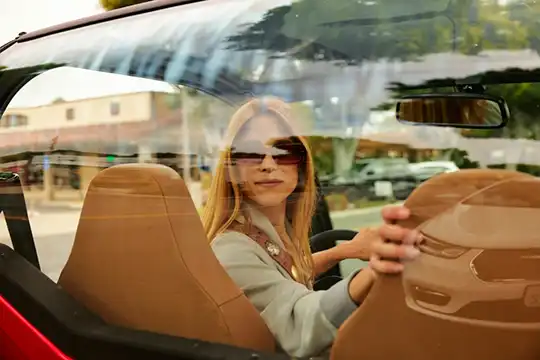 Safe
Federally classified a low-speed vehicle (LSV), GEM electric vehicles are held to a higher standard than the typical golf cart. GEM exceeds NHTSA LSV safety standards through several features including an Occupant Protection System (OPS) that is roof crush certified. With a max speed of 25 mph, GEM promotes a safer environment for pedestrians and vehicles to coexist.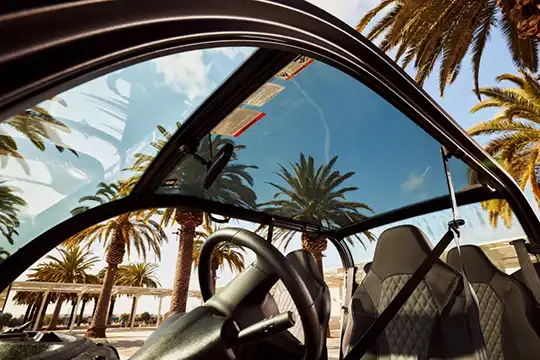 Stylish
GEM offers premium finishes to fit your style, including a panoramic skyroof, 16-inch sport wheels, low glow feature lighting, and vegan leather seats. Our full customizations portfolio includes 50+ accessories, 20 rear carrier options, and 10 work packages, so you can build a vehicle that fits your needs and your style.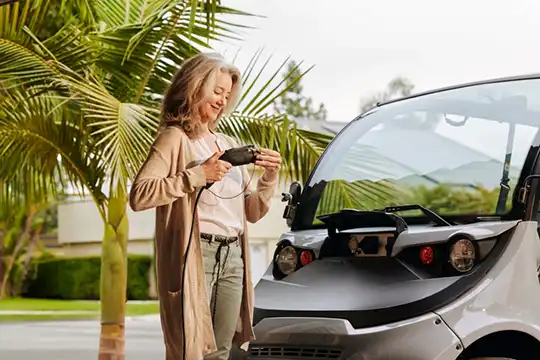 Sustainable
GEM is a sustainable EV that doesn't sacrifice quality, payload capacity, or the ability to seat up to six people. With zero CO2 emissions and optional solar panels, GEM enables cities, communities, and campuses to meet their sustainability goals.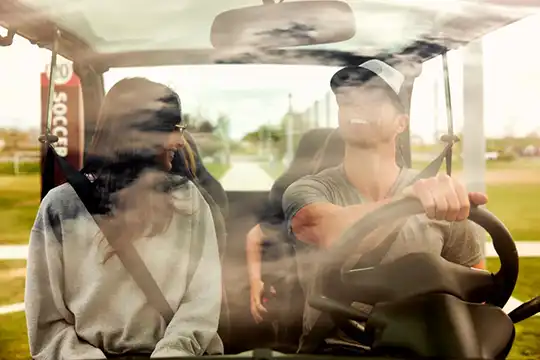 Cost-Efficient
GEM EVs have a far lower total cost of ownership compared to vans and trucks. With no fuel costs and lower maintenance costs, GEMs provide savings without compromising productivity. In addition to saving on maintenance and fuel costs, you may be eligible for electric vehicle incentives or rebates.
Battery Package Options
GEM EVs provide innovative new ways to think about safety, sustainability, cost-efficiency, and convenience—especially if you're moving people and goods across colleges and universities, city centers, residential communities, government campuses, and other micro-environments.
Maintenance Free AGM (Absorbent Glass Mat)
Value battery
Leak-free, spill-proof design never needs refilling
600 charge lifecycles
Comes standard included with GEM e2 and GEM e4
Distance Maintenance Free AGM (Absorbent Glass Mat)
For increased distance, especially in hilly terrain
600 charge lifecycles
Leak-free, spill-proof design never needs refilling
Comes standard included with GEM e6 and GEM eL XD
Lithium-Ion 7.2 kWh
Lightweight and hardworking with 5X more battery life
7.2 kWh
3,500+ charge lifecycles
Compatible with fast chargers
7-year (30k miles) warranty
Lithium-Ion 14.4 kWh
Lightweight and hardworking with 5X more battery life
Maximum range for high-demand applications and all-day operation
14.4 kWh
3,500+ charge lifecycles
Compatible with fast chargers
7-year (30k miles) warranty