Super Hauler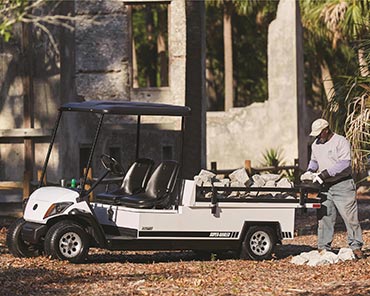 Whether you're replacing water heaters, or setting up for the day's big event, this extra-large hauler will lighten your load. With durable, low-maintenance engineering, and a super-sized aluminum cargo bed, it'll save you more than a few trips, not to mention headaches.
Vehicle Specifications
Power
Gasoline
Adventurer Super Hauler
Fuel System
Electronic fuel injection
Engine Type
Yamaha-built, 357cc, Low-Emission
Single Cylinder 60° Incline OHV
Oil Capacity
1 liter, 1000 cc (1 U.S. quart) liter
Cooling System
Forced Cooling
Starting System
Starter/Generator
Ignition
Transistor
Borex Stroke
85 x 63 mm
Compression Ratio
8:01
Air Cleaner
Two-stage, urethane-foam pre-cleaner,
and high-capacity pleated paper cartridge
Maximum Torque
25.5/2500 (Nm/rpm)
Electric
Adventurer Super Hauler
Motor
48-volt AC
Output Rating
6.7 hp for 60 minutes
Motor Control Unit
NEOS 350 amp AC controller
by Toyota Industries Corporation
Batteries
Standard: Six 8-volt Trojan
T-875 Batteries with HydroLink Watering System
Optional: Eight 6-volt Trojan T-105 Batteries
Charger
YAMAHA-built automatic microprocessor-based
high frequency switching regulated charger.
Dimensions
| | Adventurer Super Hauler |
| --- | --- |
| Overall Length | 142.9 in (363 cm) |
| Overall WIdth | 53.5 in (136 cm) |
| Wheelbase | 98.0 in (249 cm) |
| Front Wheel Tread | 34.6 in (88 cm) |
| Rear Wheel Tread | 38.2 in (97 cm) |
| Floor Board Height | 13.4 in (34 cm) |
Chasis
Adventurer Super Hauler
Frame
HybriCore™ Chassis features a robotic
welded automotive ladder-style frame
mated to a polypropylene structural floor.
Frame components are protected with
a multi-step full-immersion phosphate treatment,
electro-deposition epoxy-based coating,
and an electrostatical applied
polyester/urethane powder topcoat
Body
Mold-in Polypropylene for Glacier Color
Steering
Self-compensating double reduction
helical rack-and-pinion
Front Wheel Suspension
Tru-Trak II™ fully independent
automotive-style strut suspension
Rear Wheel Suspension
Fully independent automotive-style
strut suspension
Brakes
Self-adjusting mechanical,
rear wheel drum brakes
Seating
Bucket
Bumpers
Front 5 mph energy-absorbing bumper