LSV Personal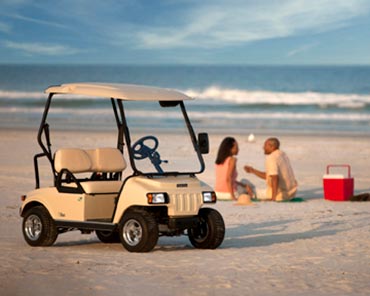 Villager 2 LSV
Street-legal Villager 2 Low-Speed Vehicles are perfect for driving to your neighborhood golf course, picking up take out at your favorite restaurant or zipping to the gym for a workout.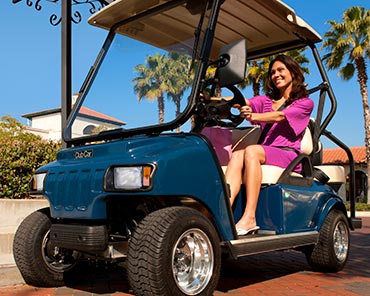 Villager 2+2 LSV
It's the perfect Low-Speed Vehicle for driving a foursome to your neighborhood golf course, taking friends to your favorite restaurant, or loading up the family – and the dog – and heading to a nearby park.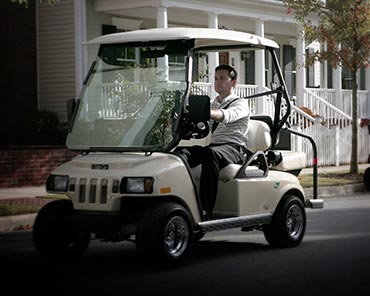 Villager 2+2 LX LSV
Upgrade your Villager 2+2, an electric utility vehicle, with features such as alloy wheels, two-tone sport seats and a custom dash with wood accents for the LX model, all designed to maximize comfort and convenience.
Vehicle Specifications
Power
Villager 2 LSV
Villager 2+2 LSV
Villager 2+2 LX LSV
Drive Motor
48-volt DC, reduced reverse speed
48-volt DC, reduced reverse speed
48-volt DC, reduced reverse speed
Horsepower
5 hp (3.6 kW) rated continuous;
14 hp (10.3 kW) rated peak motor
5 hp (3.6 kW) rated continuous;
14 hp (10.3 kW) rated peak motor
5 hp (3.6 kW) rated continuous;
14 hp (10.3 kW) rated peak motor
Drive Unit
10.3:1 direct-drive axle,
double reduction helical gear
10.3:1 direct-drive axle,
double reduction helical gear
10.3:1 direct-drive axle,
double reduction helical gear
Batteries
48-volt DC
48-volt DC
48-volt DC
Charger
Shelf Charger
On-board charger
On-board charger
Controller
350 amp DC
350 amp DC
350 amp DC
Speed Range
21 - 23 mph (33 – 37 kph)
20 - 23 mph (33 – 37 kph)
20 - 23 mph (33 – 37 kph)
Steering & Suspension
Villager 2 LSV
Villager 2+2 LSV
Villager 2+2 LX LSV
Steering
Self-adjusting rack and pinion
Self-adjusting rack and pinion
Self-adjusting rack and pinion
Front Suspension
Independent leaf spring
w/dual hydraulic shocks
Independent leaf spring
w/dual hydraulic shocks
Independent leaf spring
w/dual hydraulic shocks
Rear Suspension
Leaf springs with dual hydraulic shocks
Leaf springs with dual hydraulic shocks
Leaf springs with dual hydraulic shocks
Brakes
| | Villager 2 LSV | Villager 2+2 LSV | Villager 2+2 LX LSV |
| --- | --- | --- | --- |
| Brakes | 4-wheel drum | 4-wheel drum | 4-wheel drum |
| Park Brake | Foot-operated | Foot-operated | Foot-operated |
Body & Tires
Villager 2 LSV
Villager 2+2 LSV
Villager 2+2 LX LSV
Body and Finish
Front: Impact-resistant ABS
Rear: ArmorFlex® with
UV protective coating
Front: Impact-resistant ABS
Rear: ArmorFlex® with
UV protective coating
Front: Impact-resistant ABS
Rear: ArmorFlex® with
UV protective coating
Tires
18 x 8.5-8, DOT Premium Tread
w/ 7-spoke Wheel Covers
18 x 8.5-8, DOT Premium Tread
w/ 7-spoke Wheel Covers
10" Alloy, 205/50R-10 DOT Radial Tires
Overall Length
91.4 in (232.4 cm) with golf bag rack;
101 in (265.5 cm) with cargo box
110.1 in (279.7 cm)
110.1 in (279.7 cm)
Overall Width
47.3 in (120.1 cm) with golf bag rack;
47.3 in (120.1 cm) with cargo box
50.8 in (129 cm)
50.8 in (129 cm)
Overall Height
68.5 in (174 cm) with golf bag rack;
68.5 in (174 cm) with cargo box
49.8 in (126.5 cm)
49.8 in (126.5 cm)
Wheelbase
67.3 in (170.9 cm)
67.3 in (170.9 cm)
67.3 in (170.9 cm)
Ground Clearance
4.5 in (11.4 cm)
4.5 in (11.4 cm)
4.5 in (11.4 cm)
Tread-Front and Rear
N/A
N/A
N/A
Dry Weight (with batteries)
1069 lb. (486 kg)
1129 lb. (512 kg)
1129 lb. (512 kg)
Frame Type
Aluminum I-beam
Aluminum I-beam
Aluminum I-beam