Garia Golf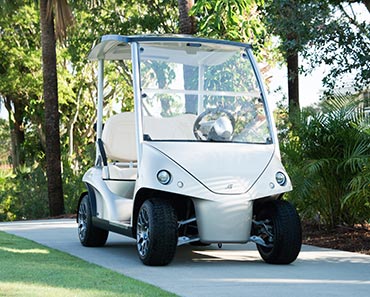 Golf
A unique combination of performance, versatility and elegance. The Garia Golf Car is the ideal luxury vehicle for golf, leisure and gated communities.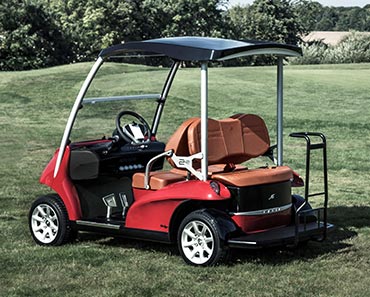 Golf 2+2
The multi-purpose 4-passenger version of the Garia Golf car is ideal for daily errands and quick commutes for you, your family, and friends. With rear seats elegantly integrated into the design, it looks great and is a pleasure to drive.
Vehicle Specifications
Measurements
Golf
Golf 2+2
Overall length
92"
92"
Overall width
(excl. mirrors)
48"
48"
Overall width
(incl. mirrors)
58"
58"
Overall height
73"
73"
Weight
880 lbs.
880 lbs.
Power Supply / Drive
| | Golf | Golf 2+2 |
| --- | --- | --- |
| Motor | High efficient 3-phase AC motor | High efficient 3-phase AC motor |
| Output rating | 3 kW (4 Hp) | 3 kW (4 Hp) |
| Peak power | 11 kW (15 Hp) | 11 kW (15 Hp) |
| Motor control unit | Curtis 275 amp | Curtis 275 amp |
| Batteries | Lithium Ion (Lead Acid optional) | Lead Acid Ion (Lithium optional) |
| Charger | Onboard Delta Q charger | Onboard Delta Q charger |
Performance
Golf
Golf 2+2
Max forward speed
15-19 mph
15-19 mph
Max reverse speed
6 mph
6 mph
Range (up to)
40 miles (depending on speed,
use, weather etc.)
40 miles (depending on speed,
use, weather etc.)
Turning radius
102" (outer circle)
102" (outer circle)
Charge time
Approx. 7 hours (for full charge)
Approx. 7 hours (for full charge)
Parking brake
Automatically engaged electromagnetic
parking brake
Automatically engaged electromagnetic
parking brake
Chassis
Golf
Golf 2+2
Frame
Premium E-Coated
Premium E-Coated
Steering
Rack and pinion steering
Rack and pinion steering
Front suspension
Double wishbone suspension made from
aluminum with automotive ball
joints and coilovers
Double wishbone suspension made from
aluminum with automotive ball
joints and coilovers
Rear suspension
Live rear axle mounted with trailing links,
Panhard rod and coilovers
Live rear axle mounted with trailing links,
Panhard rod and coilovers
Roof
Robot-welded aluminum roof structure
Robot-welded aluminum roof structure
General
| | Golf | Golf 2+2 |
| --- | --- | --- |
| Dry weight (with batteries) | 1200 lbs | 1200 lbs |
| Tire size | 205-50-10 or 205-30-12 | 205-50-10 or 205-30-12 |
| Payload capacity | 770 lbs | 770 lbs |
| Seating capacity | 2 persons | 4 persons |
| Weight distribution | 40/60 (front/rear) | 40/60 (front/rear) |