Courtesy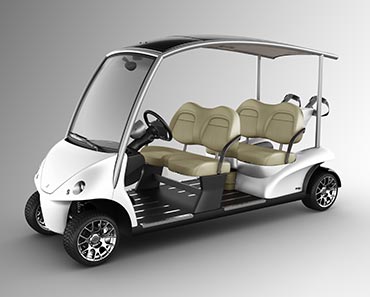 Courtesy 4 Seater
The Garia Courtesy is multi-functional, electric, and very quiet vehicle designed and produced in Denmark. It's the ideal vehicle to transport you, and your guests.
All of our vehicles are environmentally conscious, and have zero CO2 emissions.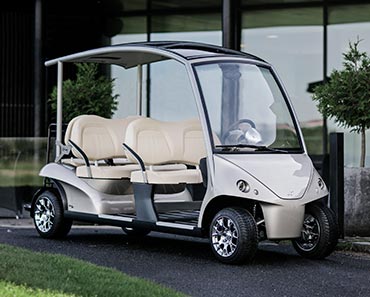 Courtesy 4+2
The Garia Courtesy is ideal for transporting larger groups, as it can hold up to 6 occupants at a time. The Garia Courtesy is sure to get you and your group where you need to go.
Vehicle Specifications
Measurements
| | Courtesy 4 Seater | Courtesy 4+2 |
| --- | --- | --- |
| Overall length | 126" | 144" |
| Overall width | 48" | 48" |
| Overall height | 74" | 74" |
Power Supply / Drive
| | Courtesy 4 Seater | Courtesy 4+2 |
| --- | --- | --- |
| Motor | High efficient 3-phase AC motor | High efficient 3-phase AC motor |
| Output rating | 3 kW (4 Hp) | 3 kW (4 Hp) |
| Peak power | 11 kW (15 Hp) | 11 kW (15 Hp) |
| Motor control unit | Curtis 275 amp | Curtis 275 amp |
| Batteries | Trojan 6 x 8V T-875 | Trojan 6 x 8V T-875 |
| Charger | Onboard Delta Q charger | Onboard Delta Q charger |
Performance
Courtesy 4 Seater
Courtesy 4+2
Max forward speed
12 mph. (Adjustable to 19 mph.)
12 mph. (Adjustable to 19 mph.)
Max reverse speed
6 mph
6 mph
Range (up to)
40 miles (depending on speed,
use, weather etc.)
40 miles (depending on speed,
use, weather etc.)
Turning radius
260" (outer circle)
260" (outer circle)
Charge time
Approx. 7 hours (for full charge)
Approx. 7 hours (for full charge)
Brakes
Hydraulic brakes with discs in the front
and drums at the rear
Hydraulic brakes with discs in the front
and drums at the rear
Parking brake
Automatically engaged electromagnetic
parking brake
Automatically engaged electromagnetic
parking brake
Chassis
| | Courtesy 4 Seater | Courtesy 4+2 |
| --- | --- | --- |
| Frame | Automotive Grade E-coated. | Automotive Grade E-coated. |
General
| | Courtesy 4 Seater | Courtesy 4+2 |
| --- | --- | --- |
| Dry weight (with batteries) | 1310 lbs | 1310 lbs |
| Tire size | 205-50-10 or 205-30-12 | 205-50-10 or 205-30-12 |